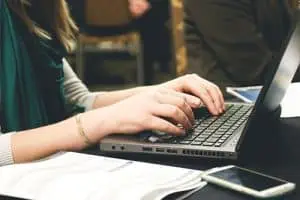 Everywhere you look, there's an ad for a different website building tool. These do-it-yourself options can be a quick and easy way to get a website online in no time, but they aren't for every type of project.
Services such as Weebly, Squarespace and Wix (just to name a few) come with packaged website templates and tools that anyone can use to create a blog, online storefront, portfolio or any other type of website quickly and without having to hire a developer. There's good reason these tools are growing in popularity, but they are not for everyone. Let's take a look at some of the pros and cons today!
Pro: You Can Do It Yourself
If you like the idea of building your own website, but don't have any idea what HTML or CSS is, one of these tools it the perfect place to start. Using a site building tool will help you learn familiarity with how designing for the web works.
Most of the services give you a few template options to start, then you can do things such as add text or images and change the color of elements. You don't have to do much more than that to have a website that's ready to publish. This concept works particularly well if you have limited content or just need a simple website, such as a blog or shop for a handful of items.
Con: Features Are Somewhat Limited
Experienced designers may find themselves frustrated with the limited options that website builders offer. Each service offers its own set of templates and design features that may be different.
The interfaces, while easy to use, can be overly simple in terms of what you can and can't do. If you are expecting to find a robust set of tools such as you might with WordPress, these most website builders leave something to be desired.
Pro: Tools Are Relatively Inexpensive
Most of these services offer pay as you go plans, and are free for users that only want to most basic features. Paid plans often give you the ability to white label the website – removing all branding from the site building tool – and expanded features. Power users can benefit from