Your brand is how your company is perceived. A strong brand knows what it stands for and who will love them. That is why people often feel loyal to a brand they know and trust. To create this clear message, you need a strategy.
If you don't give the market a story to talk about, they'll define your brand's story for you.
– David Brier
To do this, consistency will be your best friend. This is where style and brand guides can help. Both are a description of how you want to be seen but they can serve very different purposes.
Overview:
What is the difference between a style guide and a brand guide?
Benefits of style guides
Benefits of brand guides
Inspiration to get you started
What Is The Difference Between A Style Guide And A Brand Guide?
A Style guide is a brief document that shows the recommended use of your company logo, colors, and fonts. On some occasions, a style guide can also use examples of how to apply the brand such as showing stationery design. Brand guidelines go into a lot more depth, and most importantly, explain the brand strategy. This means that anyone reading the brand guidelines should get a clear image of how the company wants to speak, interact and look both internally and towards their customers.
Benefits Of Style Guides
Style guides are perfect for everyday use and to send to partners or media. Most people who implement your brand will not go beyond adding your logo, colors, and typography to their site so the style guide is a clear and quick way to help with consistency.
Benefits Of Brand Guidelines
Brand guidelines are much more effective when you are working across creative teams or for internal purposes. For example, if you decide to hire a web designer to build your site and a copywriter to create the perfect value proposition, brand guidelines will make sure they both understand your company vision. For larger teams, a document that outlines your values, future goals and company culture is great for building unity.
Inspiration For Your Own Brand
Style Guides
DOOH.com by Karoshi
This is a perfect example of a one-page style guide with everything you need to send to partners and media. The different versions of the logo, the colors, and the typography are clearly laid out and the guide is easy to follow.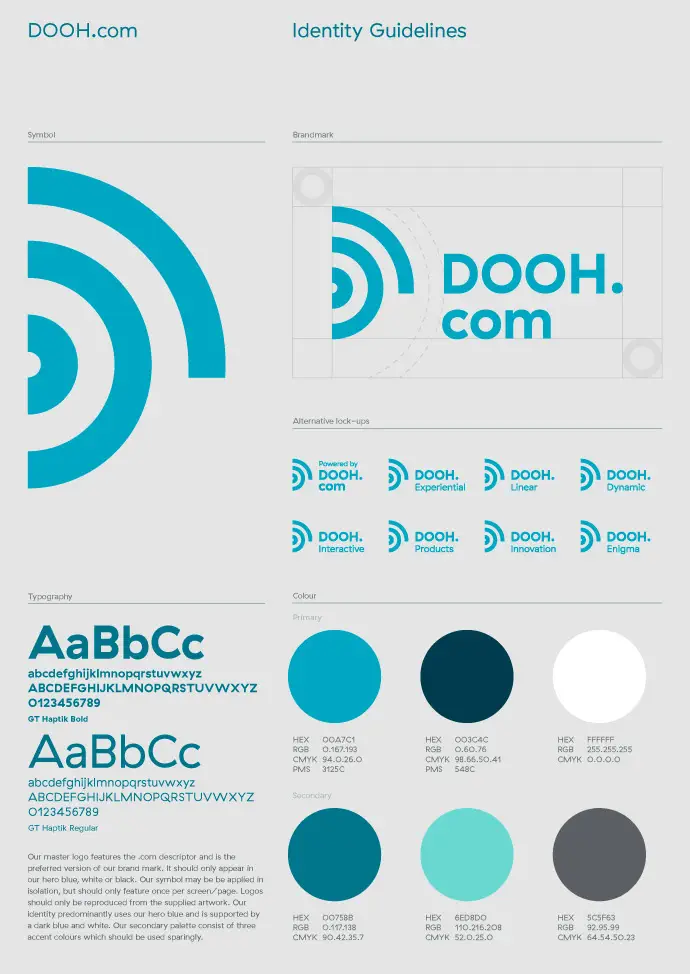 Qapital by Bedow studio
Qapital is all about saving small to live big, something communicated well through their logo being made up from small pieces put together to show a bigger picture. Because this brand has so many components, this easy to follow style guide allows anyone to play around with shapes and still be on-brand.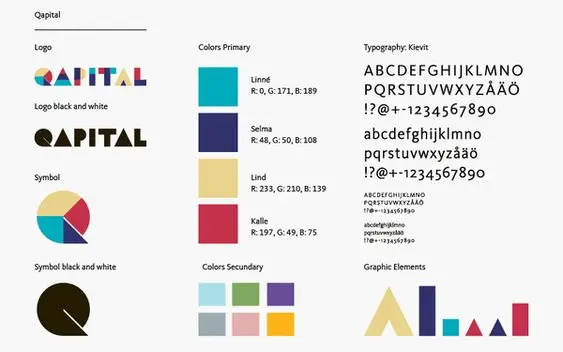 Brand Guidelines
‍Trussle by Ragged Edge
Trussle is a vibrant brand with a lot of color, illustrations, and patterns. This brand guide carefully explains how to use each element to succeed on social media, in their app, and on their website. By showing a variety of applications, the brand will be easier to implement and stay more consistent.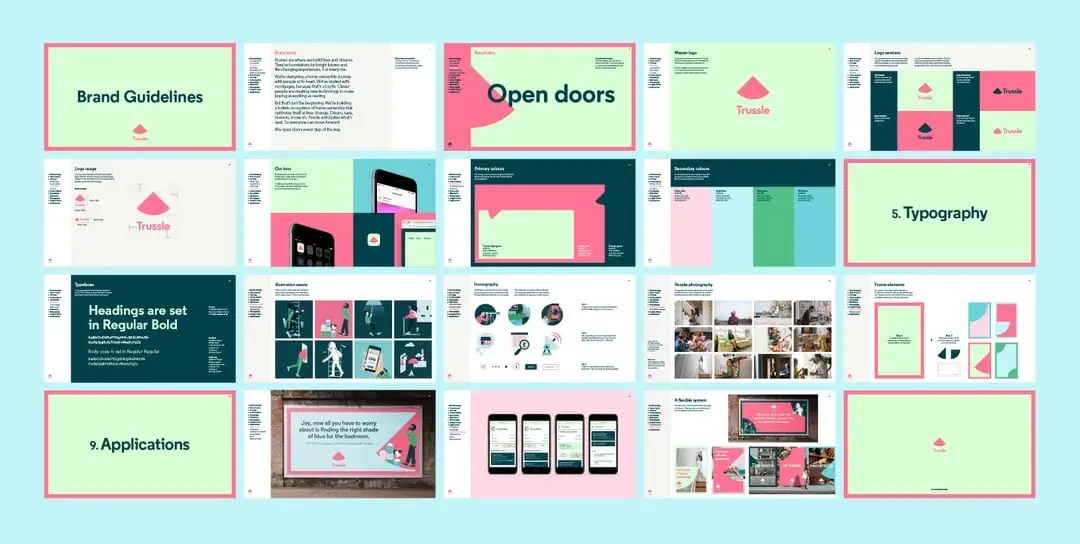 Remode by Futureform
Remode is a brand adopted by a community of makers so it is important that everyone can make it their own. To accomplish this, the logo can be cut out of fabric, stamped onto a new product, or disassembled to create patterns. All while still looking like one community. The brand guide is crucial to make sure everyone can see the possibilities.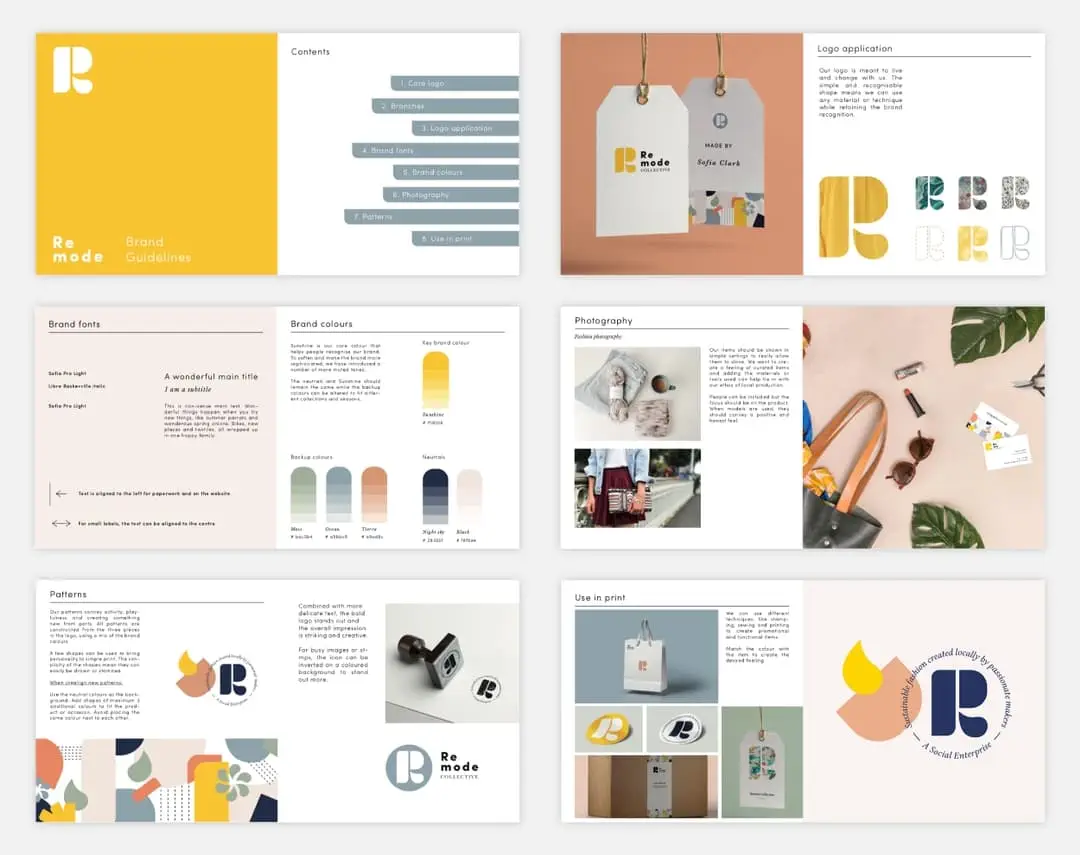 Njord by Nicklas Hellborg
With menus changing every season, it is important for Njord to have clear brand elements that stay the same. The brand guidelines clearly explain how to combine the black and white scheme with the color of the season in everything from the brand logo to the photography.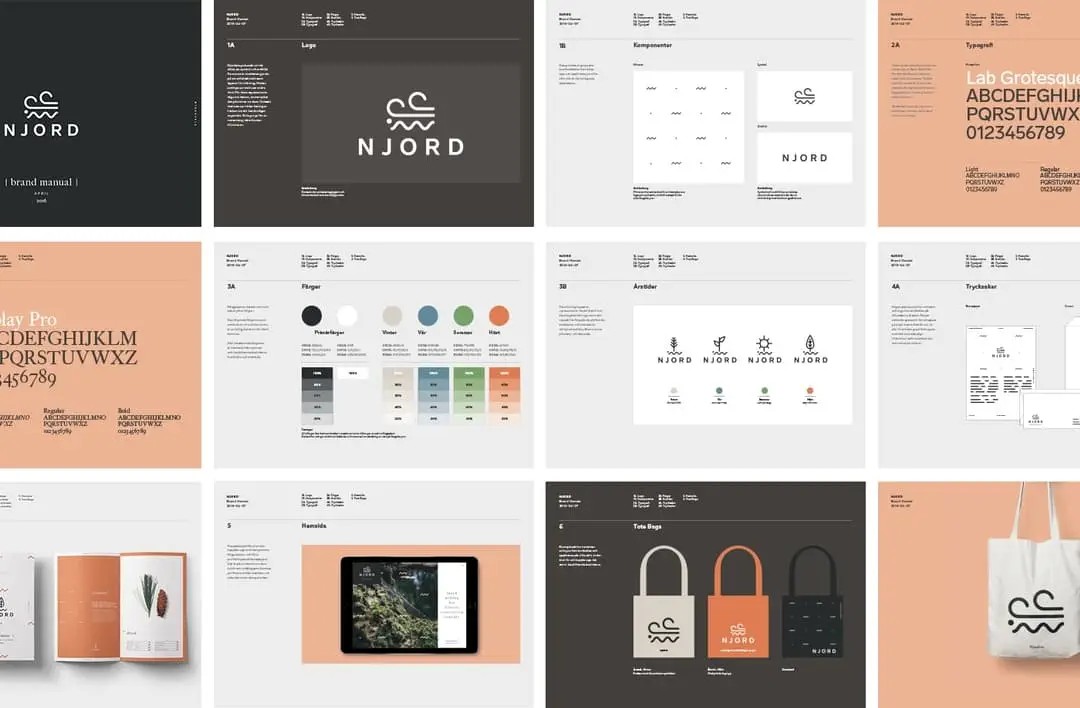 SOURCE: https://www.future-form.co/blog/brand-guidelines-or-style-guide | January 28, 2019